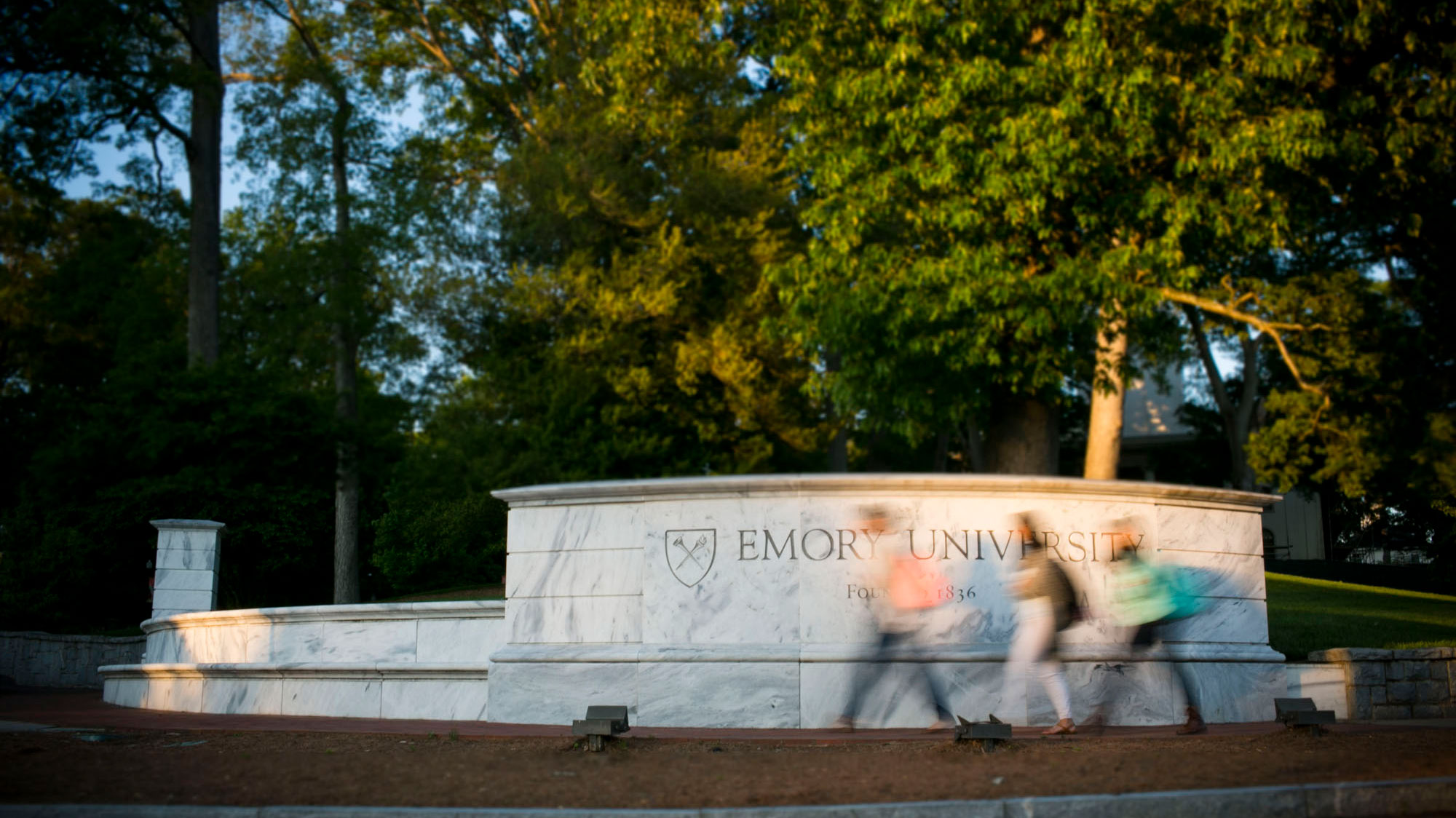 About Emory University
---
A global research university respected for its teaching, research, scholarship, health care, and social action, Emory combines nine undergraduate, graduate, and professional schools and colleges with the most comprehensive health care system and sponsored research base of any university in Georgia.
Emory's campus in the suburban Atlanta neighborhood of Druid Hills is home to the undergraduate Emory College of Arts and Sciences as well as the Nell Hodgson Woodruff School of Nursing, Goizueta Business School, Rollins School of Public Health, Candler School of Theology, Laney Graduate School, the School of Law, and the School of Medicine.
First-year students have two options to begin their Emory experience: Emory College or Oxford College, which is located 38 miles east of Atlanta on Emory's original campus in Oxford, Georgia. This campus, only for first- and second-year students, is a unique opportunity for students to be immersed in a traditional liberal arts environment and close-knit community. As juniors, all Oxford students continue to the Atlanta campus, joining their peers and earning degrees from Emory College, the business school, or the nursing school.
Within the larger Emory University organization, the Robert W. Woodruff Health Sciences Center encompasses components of Emory University responsible for education of health professionals, research affecting health and illness, patient care (through Emory Healthcare and other partners such as Grady Health Systems and Children's Healthcare of Atlanta), and policies for prevention and treatment of disease.
Based in Atlanta since 1916, Emory is the largest private employer in the city, with a full-time workforce of more than 37,000. In addition to its strong cultural influence, alumni leadership, and academic strengths, Emory has a profound impact on metro Atlanta—$14.8 billion in 2019—creating thousands of jobs, generating millions in tax revenues, undertaking capital investments, and contributing to communities through health care, research, and civic engagement. The city, in turn, connects Emory faculty and students to opportunities for wider networking and partnerships, jobs, research, service, and learning.
An exciting international city benefiting from the presence of Hartsfield-Jackson International Airport, the world's busiest and most-efficient airport, Atlanta is home to 16 Fortune 500 companies (third-highest in the nation) and organizations such as The Carter Center, the Centers for Disease Control and Prevention, the American Cancer Society, CARE, and the National Center for Civil and Human Rights. Replete with distinct neighborhoods, the metro area features a rich mix of diverse cultures, entertainment, leading sports teams, and the arts.
Education to transform lives
Emory believes in the ardent pursuit of knowledge and its transformative power. This approach, led by faculty of distinction, results in a collaborative community where students are willing to take intellectual risks, their curiosity sparked through the mentorship they receive and the unique culture of engaged discourse that exists here.
A top producer of Fulbright U.S. scholars and students, Emory can claim every state and more than 100 countries represented by its more than 8,000 undergraduates. The graduate and professional schools enroll more than 7,000 students.
There has never been a time when the liberal arts and sciences have been more important to the future of higher education and society, and Emory excels in that space—equipping students with the critical skills to tackle changing workforce requirements and creatively address the inevitable disruptions of markets and society. Emory students go on to choice graduate and professional schools and find meaningful jobs, destined for a lifetime of learning, service to others, and leadership in their fields.
A position in our undergraduate class is highly sought after, with a record 30,000+ applications received last year. Those who come to Emory distinguish themselves in a multitude of ways; one in three, for example, deepen their educational experience by studying abroad, with opportunities in more than 40 countries. Our desire to build and maintain community and diversity is evident in the way we recruit, with historically underrepresented groups constituting 35 percent of the student body, women 60 percent, and international students 17 percent in 2019.
While here, the majority of students conduct research with a faculty member in the sciences, arts, or humanities. The impact of those discoveries is often felt while they are still on campus: business students whose data-analysis app helps match adult job seekers to career opportunities, medical and nursing students who staff health clinics for rural Georgia farmworkers, and undergraduates who collect plants that offer a new take on ancient healing methods. Through such study, Emory is identifying societal challenges, changing outcomes, and improving lives.
Dedicated, eminent faculty
In addition to being brilliant teachers and committed mentors to our students, Emory's faculty are at the top of their professions— ought after as prominent experts in their fields, tireless researchers working to improve our understanding of the world, and leaders in their communities.
Faculty are at the heart of the creation of new knowledge, sharing ideas in the class and lab, with each other, and in the community at large. In 2019, Emory faculty published 104 books. Emory professors were honored with the Lasker Award, a Peabody Award, and selection to the shortlist for the National Book Award, among many other achievements.
The undeniable strength of Emory's faculty allows the university to convene important academic meetings, including the March 2019 Academic Freedom and Free Speech Conference that brought national voices on this subject to the Emory campus in dialogue with our scholars.
The successes of our faculty members are not limited to their tremendous impact in research and scholarship. They excel as teachers, advisers, and intellectual role models, as they work side by side with students and other learners, welcoming their diverse points of view, engaging them in collaborative research opportunities, stirring their imaginations and creativity, and taking their learning to ever-higher levels.
Faculty members typically teach at all levels of instruction, thereby providing students access to the university's most distinguished scholars. Their concern is for the whole person—helping students see that learning must be continuous and thoughtfully applied to an ever-changing world. The impact of our faculty lasts not just for students' time at Emory, but for a lifetime.
Selected Top Rankings
No. 1—Integrative Studies Program (Best Colleges, 2018)
No. 1—Best Quality of Life (Princeton Review, 2019). Emory ranks in the top 25 for 15 categories in the Princeton Review's "The Best 385 Colleges" guide, scoring highly in a diverse range of categories that include overall satisfaction, life on campus, academics, resources and impact. 
No. 3—best universities for transfer students (Money, 2019)
No. 3—Department of Biomedical Engineering, with Georgia Institute of Technology 
(U.S. News & World Report, 2020)
No. 4—Nell Hodgson Woodruff School of Nursing (U.S. News & World Report, 2020)
No. 5—Rollins School of Public Health (U.S. News & World Report, 2020)
No. 5—NIH research funding for nursing schools, Nell Hodgson Woodruff School of Nursing (Blue Ridge Institute for Medical Research, 2019)
No. 5—NIH research funding for schools of public health, Rollins School of Public Health (Blue Ridge Institute for Medical Research, 2019)
No. 21 among national universities (U.S. News & World Report, 2020)
Learn more about Emory's impact beyond the numbers.